Joined

Dec 16, 2008
Messages

11,123
Location
Considering that I just had the luxury of pocketing six balls I now have a more comfortable feel at the table.

Tom
Tom,
In a court of law they would object to this line of reasoning because you are "assuming facts not in evidence"
. Maybe Varner just shot the six toughest shots of his life to get to this one, you don't know and can't assume he "has a comfortable feel at the table". Since you are ascribing qualities to the shooter here based on thinking he's "feeling comfortable" let's look at his previous shot.
Let me go backwards one shot and show you how Varner got to this position. He had this shot on the 15 ball and went higher uptable than he liked. He did NOT like the the shot on the 12 ball from here but shot it anyway.
Let me reiterate; Varner did not play for the cueball to be this far uptable and did not like it when it went there. He most definitely was not "comfortable" with the shot because he had just ran six balls.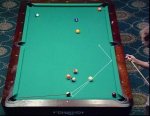 Varner did not like his position on the 12 ball one bit:
Dennis