The first 5 years of Johnston City
from Chalk Up!
1963-1965 Articles
Edited by Steve Booth; clippings generously contributed by Frank Brent; reprinted with permission
The much anticipated 1963 Johnston City

tournament got both a big build-up of publicity,

and a lot of press coverage of the actual event --

including the first ever One Pocket on TV!
.
| | |
| --- | --- |
| The results from the 1963 Johnston City All Around tournament. The '63 event was covered by Sports Illustrated, CBS Television, as well as several other magazines and newspapers. | |
Chalk Up! also reported an all-around event held in Tampa Florida in 1964,
that drew a pretty big field of top notch One Pocket talent!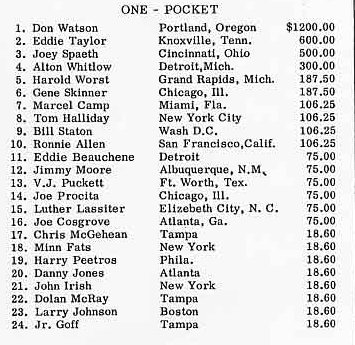 Results from the 1964 Johnston City All Around event.

This Chalk Up! issue did not give a breakdown of each

event -- just the all around money standings.
Announcement for the 1965 Johnston City event

Brief report from the 1965 Johnston City event

The all-around results for the first Jansco Brother's Stardust Hotel event in 1965. Again, only the all around money list, but what a who's who of 60's legends!