Joined

Sep 17, 2008
Messages

7,376
From
Hey everyone: I've got just 6 copies left! As far as I know, these are the only copies around of this wonderful book by Joe Hood on "Pool and Fancy Trick Shots EXPOSED" from 1908. Its 96 pages with over 200 explanations and diagrams of his favorite shots.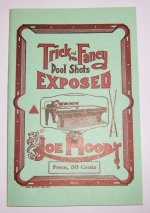 This man was a remarkable entertainer in the field of pool and billiards for his time. I think everyone will find it very interesting as I did!
Trick and Fancy Pool Shots EXPOSED by Joe Hood
Joseph G. Hood, better known as Joe Hood, the "Napoleon
of trick and fancy pool shots", was born in Nashua,
N. H., in 1875. He started to play pool in 1891, and
played match and championships, competitions, and
has twice won the Championship of New England. He
has a high run of ninety-two (92) balls to his credit, made
when playing against an opponent, each player breaking
in turn. His first public exhibition of fancy pool shots
was given in the Lawndale Garden Theatre, Nashua,
N.H, on the fourteenth and fifteenth days of July, 1891).
He is the originator of the fourteen balls with one stroke,
and other seemingly impossible shots, including all the
well-known blindfolded shots. In the past twelve years
He has devoted most of his time giving fancy shot exhibitions
in the leading clubs and billiard halls, summer and
winter resorts: traveling extensively in the United States
and Canada.
A notable engagement is one at the Mechanics Fair,
Boston, which covered a period of eight weeks of two
exhibitions a day. Most of the exhibitions are given on a
strange pool table and without practicing on it, and when
it, is taken into consideration that tables vary in size, are
of different make, and in all kinds of conditions, it is not
to be wondered at. That after the entertainment the
skeptics will examine the cue und cue hall and all the
paraphernalia that Hood carries.
Being a polished gentleman, both on and off the green
cloth, Mr. Hood makes a host of friends during his stay in
the cities visited. But this does seem at all strange
to anyone personally acquainted with this genial and affable artist.
This piece of pool and billiard memorabilia retails for $30.00 USD plus $4.95 S&H. For a LIMITTED time, the price of this book is $14.95 plus $4.95 S&H.
To order this item go to PAY PAL and select the SEND MONEY button. Send the payment to my Email address:
mr3cushion@live.com
Bill Smith "Mr3Cushion"