hard to tell on the pic angles but I see it as this being possible:

View attachment 437934

The 8 banks either into the 11/7 or maybe between the 7 and 3 but ICBW. If the 8 is going to disturb the 1/3 then it's no bueno.
Well here it is…. My shot selection. For those who think me insane let me explain. I saw the position of the balls as actually favoring my opponent a bit and wanted to "Rearrange the furniture" if I could do so and not sell out.
Larry your comment about pocketing the 8 for him was a possibility, but more than that, I was concerned about the 8 catching the 11 full or the 1/3 off the rail and sitting there for a sellout. Therefore if I was to play this shot I had to really overcut the 5/8 so the 8 banked shorter.
seeing where the 10 was I also decided to use something I learned last month in a wwyd and come off his long rail kicking it away and moving the cue uptable on his side. So many fun components of this shot it just had to shoot it
So I overcut the 5/8 combo with low left draw, sending them both towards my side, kicking the 10 my way also and moving the cue uptable on his side.
worked out fairly well. Not as well as I hoped (I could have gotten lucky) but I did what I tried and moved a few balls away from his side as well.
putting him under the 1 via KYs shot or off the 10 may have been a stronger leave but oftentimes good things happen when throwing multiple balls towards my hole so I am ok with this attempt.
Here was the original again..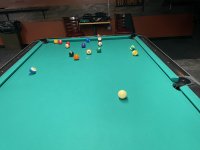 And Here was the result….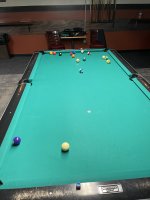 Last edited: